The words Hotel Management System have been passed around the internet and hotel management world quite a lot recently, especially in the Philippines. They have been said to help you increase business and customer satisfaction but how exactly do they do that? There is one local software in the Philippines that could cater your requirement, it's called Folio+ Cloud. Here are the features that you can find on Folio+ Cloud from Jinisys Software.
Reservation Management
Your old reservation book or spreadsheet probably is difficult to use in today's world. People travel a lot more than they used to and they demand quick service. With HMS software you are able to set up reservations smoothly for people over the phone, in person, or online. The software will even alert you or the customer if the days they desire are already booked. You can opt to have a reservation wait list established so that your customers can be notified if their desired days have opened up.
House Keeping Management
Your house keeping team works hard and probably doesn't get the credit they deserve. When you use the house keeping management features on HMS solutions you are able to track just about everything. Cleaning crews can mark which rooms have been cleaned and which haven't, they can even mark if the room declined to be cleaned.
If you offer minibar/snack bars in your rooms you can track whether or not someone has taken items out of it through the house keeping section of the software.  When your cleaning staff refills it that is marked too.  Your on hand stocks of cleaning supplies, minibar supplies, and room supplies can also be tracked so that you can see if anything goes missing.
Cashiering Management
Your front desk team handles customer interactions all day. They need to be able to help customers quickly so they can help the next customer without having them wait in line for a long time. With cashiering management software room charges, stay charges, and all other parts of a customer's stay have already been tracked. That means that you can print out their checkout papers rapidly, have them sign, and they can be on their way to enjoying their next great adventure.
This works the same way for checking people in. When a person makes a reservation they already provide you with most of the information that you need to process their check-in. Use this information via the HMS software to speed up the check-in process. That way the customer doesn't have to stand their answer questions while everyone behind them stands their tapping their feet.
Sales and Marketing Management
The sales and marketing team will have software that enables them to track all of the information that they need. When someone has been found to be making a reservation because of a commercial or other advertisement the marketing team can see that. It allows them to view how accurate it is. It also allows the sales team to track whether or not they are being affective and where they can improve.
Task Automation
There are a lot of tasks that your hotel staff does every day that a computer can take over for them, this is called task automation. For example if you print out a calendar for the day of how many people are checking in, the software can do this for you. It can also do things such as make automatic lists of which rooms are occupied and which aren't for the cleaning staff.
Seamless Integration
There are a lot of other software programs that hotels use every day. Most Hotel Management Systems integrate with these seamlessly. SAP Business One, Event Management, PoS+, and more are all supported by Folio+ Cloud.
Based on Your Input
These software developers only stay in business if they base the software off the input of those who are using it. So if there is a feature you need or need improved, all you need to do is ask. It may not come right away but you can bet that the development teams will work to implement it as best they can.
With all of these features it is a wonder that more hotels haven't already started using Hotel Management Systems. Folio+ Cloud offers free 6-month subscriptions to hotels in the Philippines so that they can try the software and see how it benefits them. This will enable you to get a feel for it before you make the plunge and subscribe.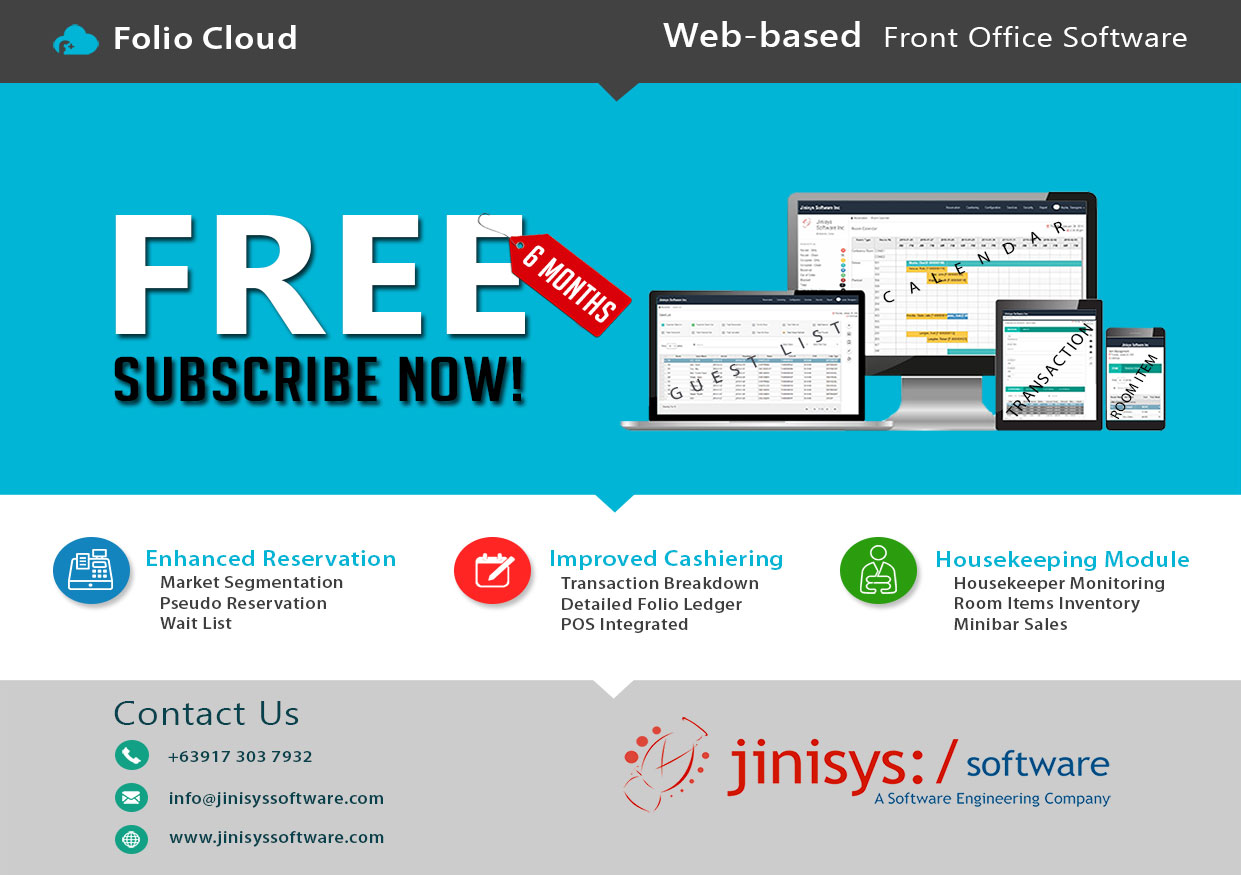 Sales and Marketing Manager
at
Jinisys Software Inc.
A software Consultant for hospitality and real estate solutions in the Philippines. General manager for sales and marketing for Jinisys Software. You may follow me on
Jojo Balagosa
Latest posts by Jojo Balagosa (see all)