Managing a hotel is no small feat and doing this manually can be a very demanding as well as time-consuming experience. This is why using a dedicated and professional hotel management system will offer you a great and reliable way to take complete control over the way the hotel works and you can also use this to grow your hotel unlike never before.
Reservation and front office operations
These are the places where a hotel management system for Philippines hotels can really come in handy. Managing the people that are coming in and out of the hotel and placing reservations can be a true nightmare for a hotel but with a dedicated management system that's digital the entire experience will be more than impressive. It offers a great way to handle the inquiries and reservations, but you also get a good insight on the type of rooms and guests that are most common for your hotel. This way you can figure out your new marketing approach!
Room availability
You get to understand when and how many rooms are active at any given time so you can offer better services to your customers. Thanks to a dedicated hotel management system you can really figure out the types of rooms that sell faster during the peak seasons and you can also forecast the room status and sales for the near future.
Customer patterns
With the hotel management system you can figure out the customer patterns. You know when they come back, what type of room they want the most and this way you can fully understand how you can improve your services and cater to their needs. Offering personalized services is the way to go nowadays and this does help you achieve such results.
Lowering costs
As you can expect a good hotel management system in Philippines allows you to lower the costs quite a lot. Instead of having multiple people perform pieces of a larger job, you cut the costs by using a digital tool that can take care of everything in a precise and relevant manner. This way you can definitely save money and invest in those places where you are in dire need of funds, so it's definitely a win-win situation here for sure.
Growth
The main reason why you should use a hotel management system is that it allows you to grow your business. It's definitely the best method that you can use in order to get a complete insight on what works inside your hotel, what can be improved and the results that you can obtain in the end. It's definitely a great tool to help you take your business to new heights and it all comes down to you to make the right choice.
As you can see having a hotel management system for your Philippines hotel can bring in front some exciting benefits. It's a great investment into your business and one that can deliver a great ROI. It all comes down to the way you implement it but the results will definitely astonish you in the end!
---
Jinisys Software Summer Promo!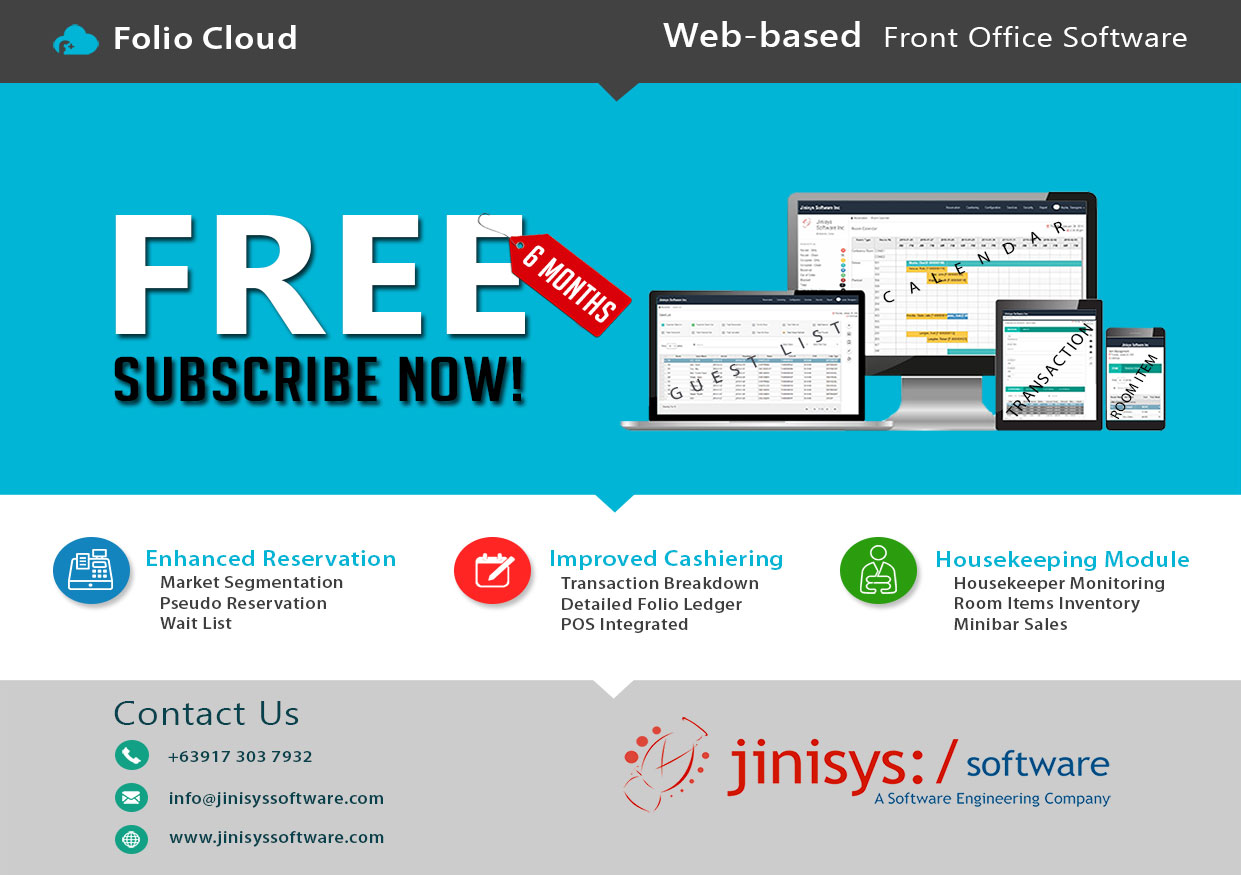 Sales and Marketing Manager
at
Jinisys Software Inc.
A software Consultant for hospitality and real estate solutions in the Philippines. General manager for sales and marketing for Jinisys Software. You may follow me on
Jojo Balagosa
Latest posts by Jojo Balagosa (see all)