With all of the different things that need to be controlled at a hotel it is important that you have a way to manage it.  Traditional methods of tracking on paper just don't cut it any more.  Web-based Property Management Systems are the new way to go.  They allow you and your staff to control, log, and view all parts of hotel management system.  Why do you need a hotel PMS in the Philippines though?
It Is Difficult to Scale
When you rely on paper or excel methods of keeping track of your reservations it because difficult to do large amounts of business.  You can mostly forget about upsizing your hotel, it would be impossible to track.  PMS software allows you to keep track of all hotel information neatly in one place.  You don't need to worry about how many people come to visit because they are all tracked by the software.
Front Desk Management Becomes Easier
When you check people in with paper or a spreadsheet there tends to be a lot of information that needs to be communicated at check-in.  Who the person is, their financial information, what room they will be in, how long their stay will be, etc.  It takes time to ask and then write down all of this information.  When you have a PMS you can either type it in or pull it directly from when they made the reservation.  This makes it incredibly simple.  Your front desk staff can also view all of the reservations for the day, week, month, etc. on one calendar so they can be prepared in advance for people checking in.
Faster Checkout
Slow checkouts remind customers of what they are leaving behind as they return to their jobs and homes, they just want to go and not have to linger.  Psychologically people also don't like standing at the front desk longer than they have.  Because all of the information is kept in a computer database during a guest's stay it can quickly be updated and the customer can be checked out rapidly.  It also allows for more professional receipts.
Customers Are Happier
All that information that has to be asked for paper check-in on a hotel guest book takes time and the last thing a person wants to do when they get to a hotel is spend a lot of time answering questions.  They want to get to their hotel room.  A quicker system enables that.  It also enables a faster checkout.  Furthermore it also makes it more secure so a person doesn't have to worry about their information being written down for anyone to look at or take.  For all of these reasons your customers will be happier and more satisfied when you switch to a Property Management System.
Track Rooms and Stock
Property Management Systems allow you to track just about everything inside your hotel.  You can track which rooms need to be cleaned, have been cleaned, and opted not to be cleaned.  You can also track what rooms have used items from their minibars and need to be restocked.  Important for many hotel managers, you can also track your stock of supplies to ensure that nothing goes missing.  You will know what is going on in your hotel and be able to streamline the process of management.
Records and Reports
It's hard for any business to grow when they don't know where they are doing good and don't know where they need to improve.  Hotel PMS software allows you to pull up records and reports to vet how well your team has been doing.  The reports will allow you to see statistics such as check-in time, how quickly rooms were cleaned, how many reservations were made, average check-in and checkout times, and much, much more.  Use all of this powerful information to grow and expand in the way that you want to.
Hotels around the world have already been adopting PMS software but many smaller hotels see it as too much of a cost.  Instead of thinking of what the cost would be, see how the benefits can help you to make more money.  With computers being everywhere it isn't just needed for your benefit, it is expected by the customers for you to have a smooth and integrated check-in/checkout process.  Look at software such as that provided by Jinisys to see how you can manage your hotel from any computer, anywhere.  For hotels in the Philippines you can get a free 6 month subscription from Jinisys Software to see how this software can help you.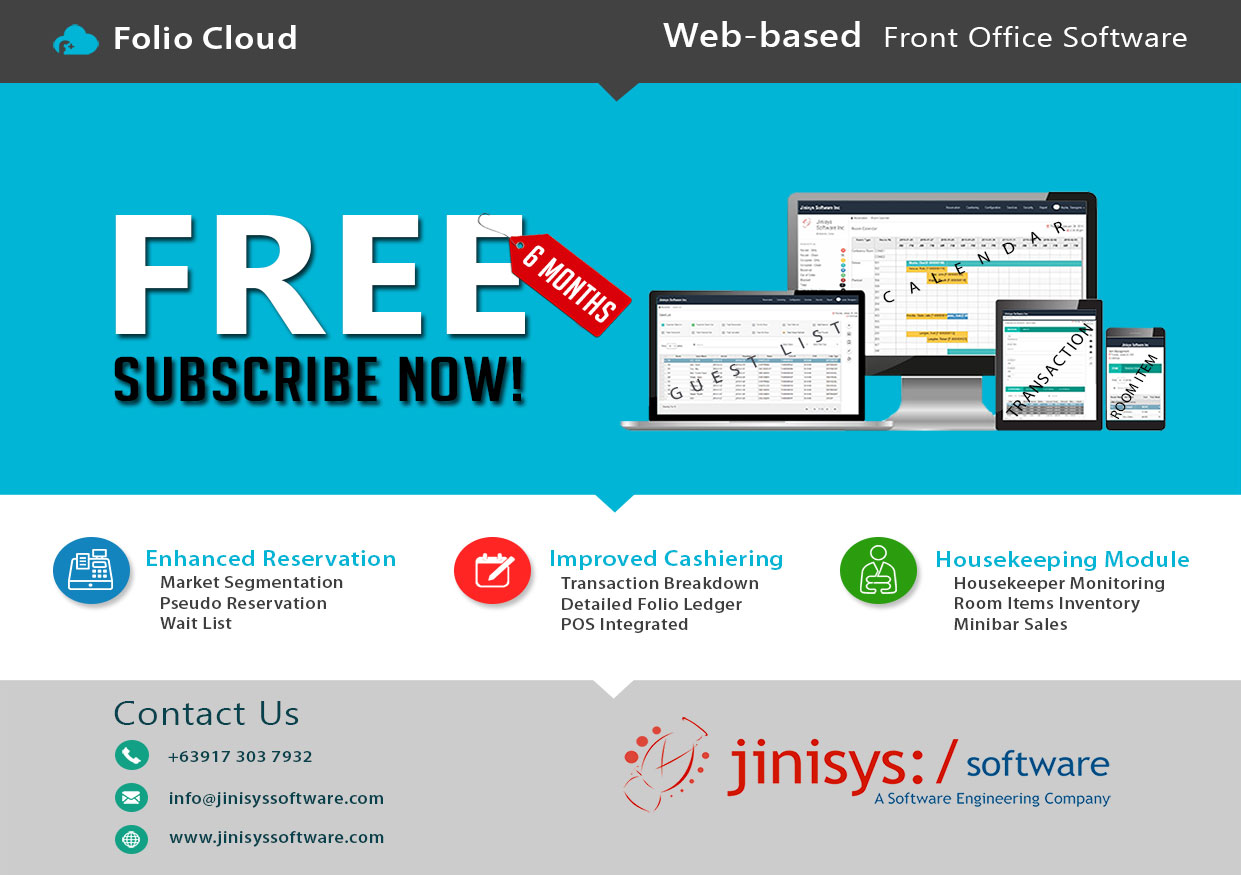 Sales and Marketing Manager
at
Jinisys Software Inc.
A software Consultant for hospitality and real estate solutions in the Philippines. General manager for sales and marketing for Jinisys Software. You may follow me on
Jojo Balagosa
Latest posts by Jojo Balagosa (see all)